Rebrand? Brand refresh or redesign?
Logo out of date? Tired? Is your marketing fading? Sales slumping? A rebrand or brand refresh will take you to a new level.
A brand refresh is a makeover for your company
Think of it like a personal makeover ... a better haircut, up-to-date outfit, and new shoes that transform how a person is perceived. It's the same with your brand.
A refresh can keep or update recognized visual elements. Or a new look, tone and presentation of the overall style is needed.
A brand refresh will maintain a visual connection to how the brand was seen before. But the "new suit" makeover is up-to-date, vibrant and captivating.
Keep the logo, shift the look: SELCO Community Credit Union wanted a whole new look and tone for their brand, without changing the logo. A new design system supported their growth.
Add messaging and update colors: Messaging hierarchy, fresh design and a new color palette made a positive impact on Cascade Employers Association's perceived value.
Expand the design system: Linfield College wanted a more dynamic design system to connect with potential students. Expanded colors and a bold visual layout drove response.
Update and retain a visual connection: Gormley Plumbing + Mechanical wanted a bolder, simpler updated version of their logo instead of a new identity. With the brand refresh, new applications are phased in while keeping recognition between old and new.
Rebranding can be a complete redesign
A total rebrand goes beyond the makeover. It's plastic surgery and a change in hair color. A transformation, a new identity and brand system for the same name. And with the new logo design—fresh messaging, a reinvented visual system and a transformed program to catapult the organization forward.
Forest Grove Lumber's new identity appealed to new audiences—from architects to contractors to homeowners. Reinvented communication tools grabbed attention and told their unique story.
McMinnville Area Chamber of Commerce wanted a more sophisticated look that appealed to an upscale, historic community.
SRC (Salem Radiology Consultants) connected with their physician referral group and patients on a new level with their updated identity and new referral packet.
Roth Heating and Cooling grew when they implemented our new identity system into trucks, advertising and mailers.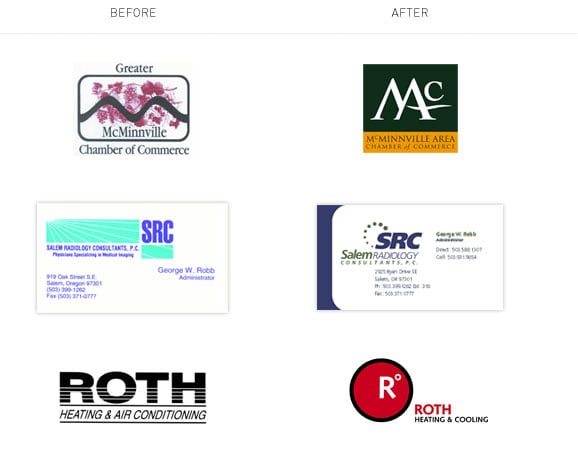 ---
Is a rebrand in your future?
Is it time to focus around new products, services or audiences? To increase visibility in your market? To claim your position and rise above the competition? For proven experience and extraordinary creative work that demands attention and inspires response, talk to us about a brand refresh or brand redesign.
Learn more about rebranding on our blog:
Is a rebrand or brand refresh the right move? Download our free worksheet.