Art director and aesthetic brain
With more than 15 years in graphic design, Marlon Alojepan adds experience, creative vision and a refined style to the Creative Company team.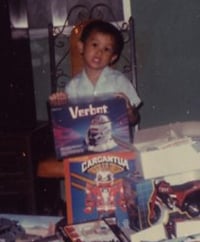 Pushing the limits of concept and still communicating effectively for the brand … That's what Marlon does best. From website design to new packaging design to mailers and identity systems, Marlon reaches for an aesthetic that works … and wows.
With a BFA in Graphic Design from the University of Hawaii at Manoa and more than 15 years working with small businesses to the impressive sports giant, Nike – Marlon adapts his style and vision to fit, and exceed, client expectations.
Change is familiar for Marlon. Born and raised in Guam, he moved to Honolulu at age 17. After 14 years of working and living in the Islands, Marlon and his fiancée chose Oregon for their next adventure. Marlon evolved from working with a small design firm to working with Nike Golf. Each new opportunity helped him stretch and multiply his skills in doing what he loves…
I've always been interested in art – especially in the forms of drawing and typography … Imagining what's possible for different projects and clients, and discovering creative solutions allows me to explore and share that creative in me.
When he's not keeping busy for our clients, Marlon immerses himself in aesthetics … Especially when it's beautiful cars. Car shows, cruises, races … Where there are gorgeous cars you'll probably find Marlon. Otherwise you'll find him exploring Pinterest or Behance, just soaking up art and design ideas.
Marlon brings fresh vision and a style refined by years of experience to Creative Company … And he adds a bit more tropical flavor to the team. (Three of the Creative Company team have strong ties to the Hawaiian Islands!)
He collaborates to make every piece, every design forward thinking and visually striking. Marlon is here to balance exceptional art with thoughtful design, as Creative Company's aesthetic brain.