Design + marketing + strategy.
Creative Company evolved from a two-person design firm to one of the Northwest's premier marketing firms.
Jennifer Larsen Morrow guided the evolution of Creative Company from a two-person design shop, Larsen & Hawkes, formed in 1976 in Salem, Oregon. She and partner Eve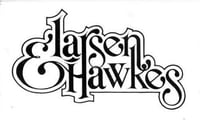 Hawkes stated "Smart art, gorgeous graphics and divine design from the nicest kids in town" on their business cards.
In 1978 Larsen & Hawkes joined with a third partner, Dez Young to establish Creative Company. By the early '80s both partners had left the firm to pursue other interests.
A pencil — the source for ideas, sketches, copywriting and strategies, was the symbol for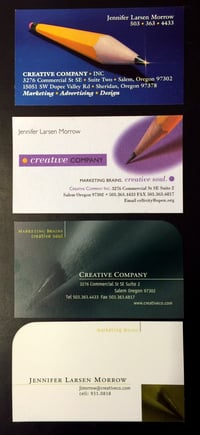 the company through multiple brand updates. Treated in different forms, Creative Company's business cards always inspired positive comments.
Staying relevant through the years
Creative Company's offices were in downtown Salem, initially on State Street and then on Court Street, from 1976 to 1988. In 1988 the staff grew and the company moved into larger space in South Salem.
Hair styles changed. Design style evolved. Technology impacted everything from concepts to prepping art for printing.
Tools of the trade evolved from rubber cement, X-acto knives, amberlith and rapidograph pens, to an in-house PMT machine to early PC and Mac computers. Always an early adopter, Jennifer moved the company forward as new technology became practical.
Remember the Compaq transportable, a tiny screen in a suitcase with a clip-on keyboard? Or that first all-in-one Mac? Yup, had those.
The company built a reputation in the region for outstanding design, and a wall full of awards for their work.
From Salem to McMinnville
In early 2001, Creative Company moved into an historic house in downtown McMinnville. Why McMinnville?
For Jennifer, it was closer to home. Incredible restaurants, abundant wineries and tasting rooms, and shopping within walking distance were also very appealing. With the latest digital connections and team members working virtually, we can work where we want to be.
The McMinnville community welcomed the company immediately, and Jennifer quickly became involved in the McMinnville Downtown Association and the McMinnville Area Chamber of Commerce. Local organizations from Linfield College to the Chamber to Western Oregon Waste also became clients.
Rebranding ourselves
The rebrand of Creative Company in 2007 moved the company from the pencil — after Jennifer finally admitted it was no longer relevant — to the CC mark used now.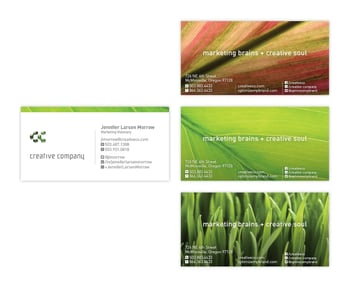 Today we work remotely much of the time, but still gather in the cottage behind the original house for our Monday morning meeting.
The wonderful Craftsman house which served as the office from 2001 to 2016 has been turned into a vacation rental, for all of those foodies and wine lovers who want to visit McMinnville.
In mid-2018, the company moved out of the cottage and has gone completely virtual, with all staff working remotely. But we're still happy to meet in McMinnville over coffee, lunch, dinner or wine.
Let's talk branding ... your visual and verbal brand.