A brand refresh to build recognition.
Loyal membership loved the services provided by this nonprofit, but also commented Cascade was "the best kept secret" in human resource services. The goal was to focus on the aspects which keep members loyal.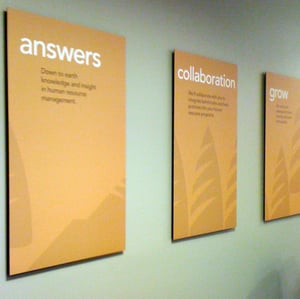 Business
Cascade Employers Association is a nonprofit which offers a range of human resource services to more than 500 member organizations.
Audience
Current membership and potential business members.
Challenge
Cascade's leadership knew it was time to reinvent the organization to focus less on the list of services offered and more on the the relationship and support provided. That's what separates them from from the competition.
Initially the plan was to rename and rebrand the organization, but the economic downturn put a rename on hold. Instead, we focused on messaging and a brand refresh to frame the value of membership, establish a new brand promise and engage the staff in the new direction. It served as the foundation for updated nonprofit marketing.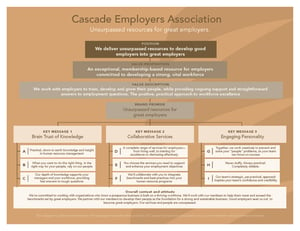 Optimized
Working with leadership and staff, we defined what members loved most about the company. The new brand promise — unsurpassed resources for great employers — makes a bold statement about both the level of services provided and the target audience.
Messaging architecture framed key ideas and phrases and set the stage for effective nonprofit marketing. The vital touchpoints where the brand could have the biggest impact were business cards, the website, conference room displays and a system of posters in the office.
The new messaging and updated brand redefined perceptions. Posters with key messages were framed as artwork. A system of business cards with rotating messages on the back inspired feedback.
Each staff member received cards with a series of messages designed to start a conversation about the value of membership. A refreshed website also brought new energy and clarity to how services are presented.
Components
Messaging hierarchy
Messaging posters for internal display
Pull-up banners for conferences
Refreshed business cards with multiple messages
Website reskin with new colors and fonts

Posters of core values
Updated website copy based on messaging
Identity system for the Salary Trends product
Salary Trends website and email format
Results
The staff is fully engaged in the new language and talking points. Board members commented the messaging architecture and brand refresh were extremely valuable, even during the economic downturn. Members who attend training at the office have given positive feedback on the messages and posters, and the updated website is generating interest and response.
The brand refresh and messaging have boosted the overall marketing program for this nonprofit -- generating recognition and response.
The work we have done with Creative Company to evaluate and reposition our organization and distill our messages from our audience's point of view has been extremely valuable. We have moved Cascade Employers forward, even in an economic downturn — we have thrived rather than merely survived.
—Patrice Altenhofen, President, Cascade Employers Association

GET CASE STUDY