Tasty branding for pie packaging.
With a new logo and redesigned boxes, Willamette Valley Fruit Co. experienced increased sales, brand recognition and product loyalty.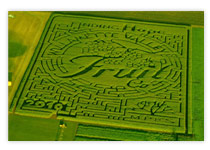 Business
Premium frozen fruit and berries, handmade pies and cobblers from a grower-owned company in Salem, Oregon.
Audience
Consumers of frozen fruit and pies in grocery and farm stand retail outlets; retail buyers.
Challenge
Communicate the product's premium, hand-crafted quality with a food packaging design system that woos the consumer and stands out on the shelf. Build sales materials with the same natural look.
Optimized
Created an upscale new brand program incorporating distinctive, brown kraft pie packaging. Sales packet and stationery echo the same natural, hand-crafted look. Added "conversation" to the food packaging design and visually distinguished "Oven-Free" cream pies from "Ready to Bake" frozen pies.
Components
Logo design
Packaging for two pie boxes
Label design system
Stationery package
Sales packet including folder and sell sheets
Packaging/labels for mini-pies
Results
Award-winning identity and package design; 33% increase in sales within the first six months; a big increase in brand recognition and product loyalty. The company grew and spun off the pies as Willamette Valley Pie Co.
Our natural, homemade look stands out amidst everyone else's glossy print and fancy picture style. And customers are making that brand connection between all of our products. We've seen a 33% increase in sales due in part to the new brand.
—Jeff Dunn, Sales Manager, Willamette Valley Fruit Company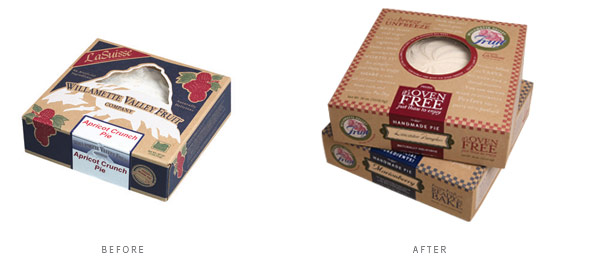 Awards
New Identity, Stationery, Sales Kit and Packaging: ReBrand 100 Awards, 2007: Merit
Pie Boxes: International Davey Awards, 2006, Packaging Campaign: Silver
Folder and Sell Sheets: International Davey Awards, 2006, Promotional Sales Kit: Silver
Logo/Stationery Design: International Davey Awards, 2005: Silver


GET CASE STUDY