Audience analysis drives new marketing to increase visibility and inquiries.
With a top-notch reputation among current clients, Salem Convention Center just needed a new marketing program and strategy to extend their reach.
Business
A meeting and convention center in Salem, Oregon, used for local meetings, regional and national tradeshows and conferences; and for social events including weddings.
Audience

Local, regional, and national organizations, meeting planners, brides, wedding planners and social event coordinators.
Challenge
An existing website and broad advertising schedule were not generating the level of inquiry needed. Salem Convention Center had built a top-notch reputation for events from local business meetings to fund-raising luncheons to multi-day conventions, and weddings.
The message of exceptional staff, impeccable service and a location central to Oregon was not getting out, despite the advertising investment. The client noted, "We wanted to have fresh, new ideas to make sure we're relevant and getting the most from our marketing budget."
Optimized
Strategy
Previous marketing had a mix up of photos and messages about being green. Discussion with the client spurred audience analysis which revealed what caused people to choose Salem Convention Center. The critical decision factors—capacity, location, amenities for different audiences—were missing from top level communications.
Advertising
Audience analysis spurred redesigned advertising to feature bold headlines and inviting text highlighting those decision factors.
Scheduled print and electronic advertising included a landing page and content to help audiences choose SCC for upcoming events.
Ads targeted to brides (below right) feature glamorous photos to show how the venue could be transformed for a beautiful wedding.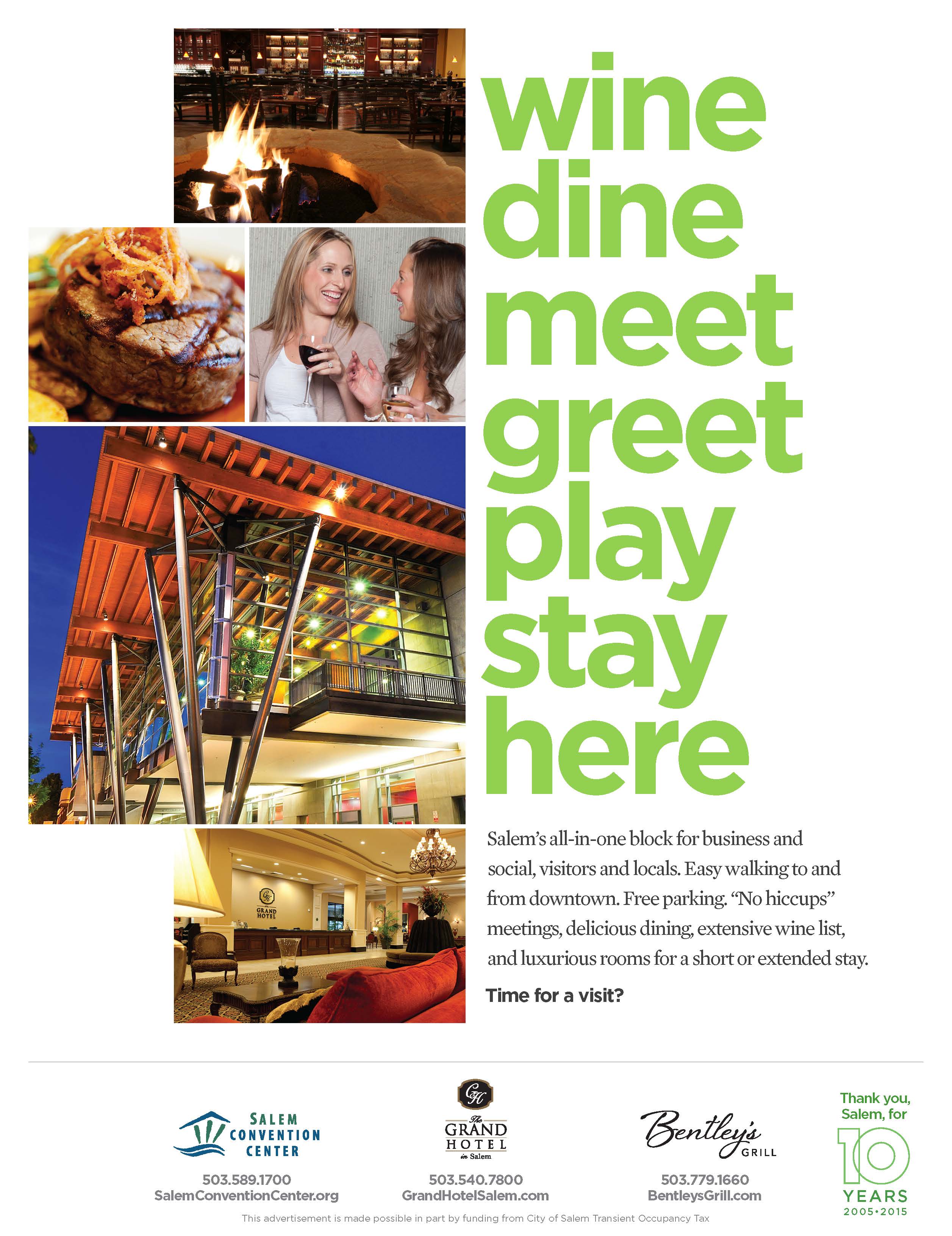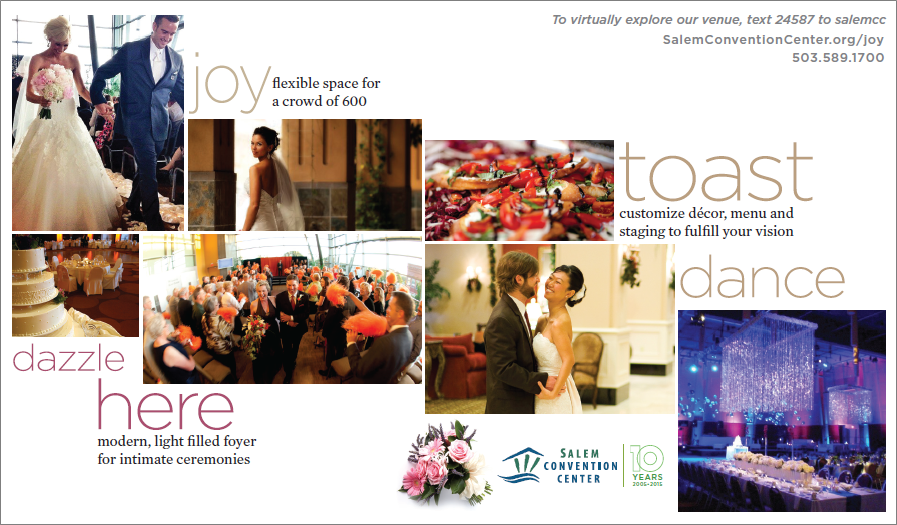 The full page ad above (wine dine meet greet) earned a bronze in the Summit International Awards. The half page ad (joy toast dance) targeted to brides won a silver in the SIAAwards.
Website
Supporting landing pages helped visitors navigate the complex website until it could be updated. The new, mobile–friendly website was organized for the four main audience groups—meetings, conventions, weddings and social events—and launched mid-2015. The home page follows what audience analysis told us—focus on those critical decision factors as well as client reviews to make it easy for new visitors to choose Salem Convention Center.
Sales brochures

In 2017 we reinvented two brochures targeted at the two primary audiences—corporate meeting planners and weddings. A booklet was designed for the corporate audience, with each spread offering key information and links to the website for more details.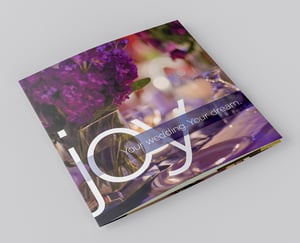 The wedding brochure, targeted to a younger audience, is a roll-fold which folds out to reveal beautiful photos and brief text with client quotes. It earned a GOLD in the Summit Creative Awards, an honor given to only 1% of the 5000+ entries.
Recognition

To celebrate the 10th anniversary of Salem Convention Center in Salem, we recreated a logo that's used at the entry, on posters and in ads. When SCC won "The Best of the Best" convention/conference venue in Oregon from the prestigious NW Meeting Planners and Events publication, we featured that logo and wrote and distributed a news release, as we had done for the 10th anniversary.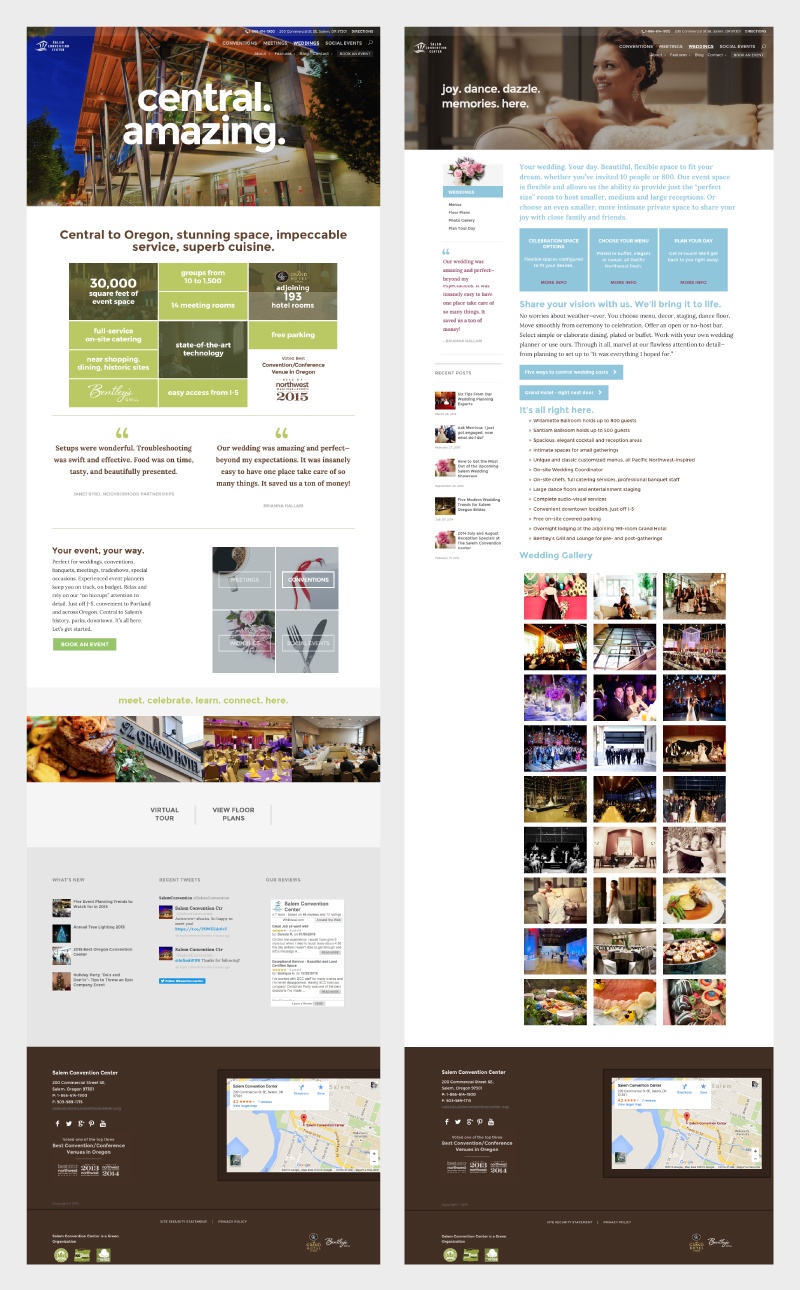 The long home page places critical decision factors in tiles at the top, then supports the four groups of audiences in photo badges. Quotes and a photo gallery along with bold navigation draws visitors into the website. From the category page (right), tiles lead visitors looking for specific details to the content they need. The website redesign won a Silver in the SIAAwards.
Components
Positioning strategy and audience analysis
Third, half page and full page ads designed for Oregon business magazines, regional business organizations and meeting planner publications
Half page and full page ads created for bridal magazines

Posters for 10th anniversary
Website redesign
Digital ads
Logo for 10th anniversary
News releases
Brochures
Window graphics
Results
Ad response and inquiries increased. SCC earned the "Best of the Best" for Convention and Meeting venues in 2015 from NW Meeting and Events magazine, as voted by meeting planners. By mid-2015 the new website launched. Ongoing accolades and escalating inquiries generate new attention and bigger results.
They've since earned "Best of the Best" from NW Meetings and Events in 2016 and 2017.
When you're ready to take a hard look at the results of your marketing, talk to us about positioning and audience analysis. We will craft a new strategy that connects with your audiences and delivers results. You may also be interested in our audience analysis worksheet. Download it below.
Awards
The wedding brochure earned a Gold in the Consumer Brochure category in the Summit Creative Awards, 2017
The "wine dine meet greet play stay here" full page business ad won a 2015 Summit International Awards Bronze in the Advertising Redesign category
Website design took a Silver in the SIAAwards
Bridal ad took a Silver in the SIAAwards

GET CASE STUDY