Keep the members smiling.
Comprehensive brand refresh and ongoing marketing to bring warmth and a personal touch and differentiate from the competition.
Business
Fast-growing, innovative credit union with headquarters in Eugene, Oregon and 10 branches.
Audience
Current and potential members of fast-growing and innovative credit union [individuals and businesses) in Lane, Benton, Linn, Deschutes, Marion and Polk counties.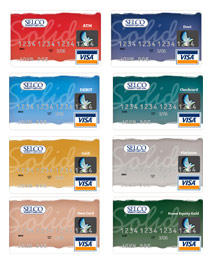 Challenge
Build on SELCO's reputation while reinventing the brand to be the "the Nordstrom of credit unions." Without changing the logo, create an integrated brand program that is distinctive, recognizable and unique in the financial market. Define brand standards and apply them to everything from signing to literature to advertising to the website.
Optimized
A brand color palette and design elements were created to differentiate between services and to contrast with the "expected" financial communication styles. From soft edges on ads to uncoated, warm-tone paper stock, to a friendly script series of "S" words, starting with "Smile," all communications were revised and upgraded. Advertising campaigns and brochures were shaped from the member's point of view, including inset photos of staff and members. Vertical brochures were converted to horizontal, and a new member packet broke from the traditional folder to present a box of information.
Components
Brand system and brand identity guidelines
Staff training and presentation
Staff brand primer/introduction
Newspaper and magazine advertising formats and campaigns
Regional media campaigns including billboards and buses
New branch opening campaigns
Literature system design

Literature and mailings for sub-brands
Ongoing strategic direction
New product branding and introduction
Displays and banners
Annual report
Event support
Results
The rebranding helped SELCO expand quickly and successfully into new markets, introducing new products and divisions with success.

Awards
Youth Programs: Credit Union National Association Marketing and Business Development Council, 2009: Merit
New Member Welcome Package: Credit Union National Association Marketing and Business Development Council, 2006: Diamond Award
The 'road trip' print ad and direct mail campaign was exactly the kind of funky, eye-catching approach we needed to reach our members. They've responded more than we'd hoped!
—Bonnie Larson, Marketing Director, SELCO Community Credit Union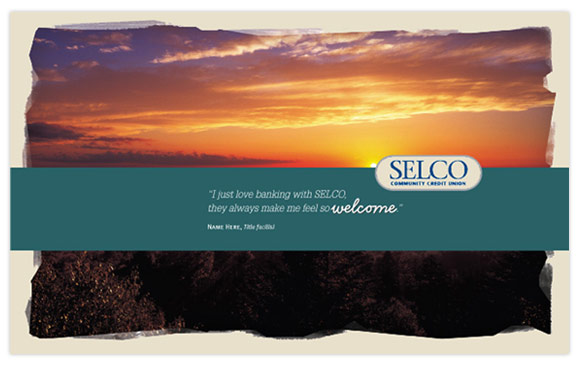 GET CASE STUDY